Honours for St Clare's at Tournament of Minds Regional Final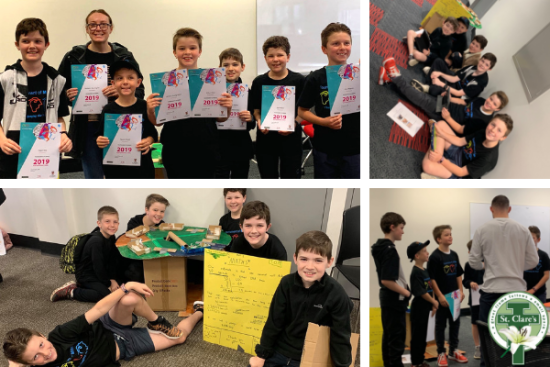 Congratulations to our Year 4 and 5 students who took part in the Tournament of Minds South West Sydney Regional Final – and in a commendable result, received honours in the primary STEM competition!
Held at the University of Western Sydney in Bankstown, the St Clare's team, 'The Steminators', joined hundreds of students from local primary and secondary schools competing on the day – the largest regional final in the state. Their team of seven completed two challenges – a spontaneous challenge, and a long-term challenge they had worked on for six weeks leading up to the event.
The long-term challenge asked students to design and build a working model of a machine which could be used to extract and store DNA from endangered animals. They also had to create an ICT version of their model and support their design with mathematical thinking and data analysis.
"The process involved a lot of critical thinking, collaboration, cooperation and communication. Our students performed really well and received great feedback from the judges" — Tarni Coughlan, teacher
Well done to Declan M, William W, Cooper C, Dean M, Krystian S, Flynn M and Laila T on their success!
---